We recognize that all of our patients are unique and deserve to receive orthodontic care that reflects their individual needs. Our experienced and talented team is committed to working with you and your family to create a comfortable, stress-free, and rewarding orthodontic experience every time you visit our practice. We are pleased to welcome you and your family, and we look forward to working with you.
---
Administrative Team
Anna Riggers
Orthodontic Treatment Coordinator
I started working for Dr. Christensen in June 2010, but started working in the dental field in 2006. I am one of our treatment coordinators, so I see new patients for consultations. I have an Associate's Degree and my certification in Dental Assisting from the College of Southern Idaho. I am also high-speed hand piece certified.
I enjoy interacting with our wonderful patients and their families on a daily basis. Getting to know new people and building relationships with them is one of the best parts of my job. Dr. Christensen and our team are so much fun as well. We all get along so well and enjoy joking around with one another and getting the patients involved. There is so much laughter in our office!
I have a wonderful husband, Kyle, who I've been married to for eight years! We have two awesome children, Grady and Millee. They keep us busy! We love traveling, especially if it's a road trip. We also enjoy going to our cabin in Elk River where we can ride our side-by-side, go fishing and hunting, and just enjoying the outdoors!
Brigitte Conley
Sleep Care Coordinator
I started at Christensen Orthodontics in January 2014 as an orthodontic assistant, but had previously worked in pediatric dentistry for five years. I enjoy working with all ages, especially children. I like working closely with patients to improve their overall health and create beautiful smiles. It's important to me that I get to know the patients on a more personal level. I love working for Dr. Christensen and this team! We help each other out where we see a need and are energetic and fun loving, which makes the workday fly by. In March 2020, I had the opportunity to move to a different area of the office and work as a Sleep Care Coordinator. Although I will miss working in the clinic, I am so excited for this change and be able to use my clinical knowledge to continue to help improve patients overall health.
I live with my amazing boyfriend and our cat Martha. We enjoy watching football together and singing karaoke, as well as many outdoor activities. I'm always up for trying something new!
Gina York
Finance Coordinator
Working in the dental field since 1996, I have had the pleasure of working back office chairside, as a scheduling coordinator, and now in finance/insurance coordinating. I started working for Dr. Christensen in September 2014 and love providing a financial plan for his patients. The best part is helping our patients get all the insurance benefits they have coming. I enjoy being a part of a team that provides the best possible treatment for our patients.
On my own time, I love spending time with family, especially in the outdoors. I love camping, fishing, hiking, and of course cooking. I have one son, three cats, and a dog.
Destiny Titus
Scheduling Coordinator
I welcome all patients with a smile, as well as scheduling their appointments, handling referrals, and sending out appointment reminders. Plus, I get to make the delicious cookies for our patients to indulge in! I really enjoy the interactions I have with patients and knowing what we are doing here is helping improve their health. Everyone here is so patient focused; we take the time to get to know each individual and improve their overall health.
I'm a military wife of 15 years and mother of five beautiful children, ranging from 15 to four years old: four girls and one boy. We have three great dogs that complete our already big family. We currently live in Lewiston, Idaho, and enjoy camping, hunting, fishing, swimming, and watching my kids play sports and compete in academic competitions.
Paige Sarbacher
Scheduling Coordinator
I received my dental assisting certificate in 2009, and am so excited to have the opportunity to spend my days in the orthodontic field. I love that I get to greet all the patients as they come in for their appointments, and get to see the amazing things Dr. Christensen does for his patients on a daily basis. Everyone cares so much for every single patient. It's a privilege to be part of this thriving team.
I was born and raised here in Lewiston Idaho. I have been married to my husband for eight years and have two beautiful girls. We also have an English bulldog named Lola and a French bulldog named Pua. In my spare time, I love being with my family. In the summer months, we spend our time camping, boating, swimming, and days at the beach. During the fall and winter, we cheer on the Washington Huskies in football and basketball!
---
Clinical Team
Alisha DeLane
Clinical Assistant
I began my work as an orthodontic assistant at Christensen Orthodontics in 2017. The first thing I noticed after working here is the amazing team. I love getting to work with all of these fabulous people who make work so fun. Everyone has their special part to play, and everyone works together to make sure our patients' experience is the best they can get.
I really enjoy the opportunity to meet so many new people, and seeing their confidence build when they get their new smile. It's amazing to change lives and help people breathe better!
I have a three-year-old pit bull named Kyzer and he definitely keeps me busy. One of my hobbies is dog/house sitting for people when they are out of town. I also enjoy summertime activities like camping and paddle boarding. I am a part of a gym in Clarkston called Hells Canyon CrossFit and it is definitely a big part of my life! In my free time, you can catch me enjoying the sunshine or reading a good murder mystery.
Alexis Underwood
Clinical Assistant
I joined Dr. Christensen's team in August 2019. I love making little kids feel comfortable and relaxed during their visit, and I like when patients and their parents are happy with the results of treatment. It makes me happy knowing that we are not only helping to improve self-esteem, but also helping with breathing. It's so cool when a patient talks about how they are breathing better and I know that I was a part of doing that! It's very rewarding.
I really like working with Dr. Christensen because he cares a lot about his patients and his team. He has done so much to make me feel welcome and valued in my short time being here and it really makes all the difference in coming to work knowing that I am appreciated and seen even for small things.
At home, I have a three-year-old pit bull named Sky. We love sleeping in on weekends and cuddling. I really like outdoors, things like hiking and going on walks especially in the spring. I enjoy spending time with my close friends, going shopping, or going on a walk with our dogs. I really like movies as well, especially science fiction!
Erica Fortin
Clinical Assistant
I started working with Dr. Christensen and his team as a scheduling coordinator in July 2019. Now an orthodontic assistant, I assist at chairside, take care of patients, and make a great, fun experience for each person we see. I'm also a pre-dental hygiene student, so I enjoy learning new things and being able to practice what I love in the dental field. I feel so fortunate to be a part of a thriving practice that helps people beyond just appearance—we actually help people live healthier lives!
I am a proud mother of two little girls and fiancé to a wonderful man who works for Inland Cellular as their Internet developer. I love spending time with my family and friends! I also like staying active by running track, basketball, and lifting weights.
Katelyn Fogleman
Clinical Assistant
I joined Christensen Orthodontics as an orthodontic assistant. While becoming part of the team, I instantly felt that the staff and patients were more of a family. This makes the job very enjoyable! With my prior experience as a substitute teacher for two years, I really enjoy the opportunity to work will all different kinds of age groups. I like help build confidence, trust, improve their health, and to build a special connection with each individual patient as they go through their orthodontic treatment. This is truly an amazing and rewarding feeling.

At Christensen Orthodontics, we all work together as a team to ensure each patient, as well as the team, have the best experience possible!

I am a single mother of two beautiful little girls. We enjoy hiking, fishing, kayaking, painting, camping, pottery, and all things nature!
Whitney Jacobs
Clinical Assistant
I am currently the Sterilization Tech and enjoy learning new things everyday such as lab work and assisting chair-side. Dr. Christensen and the team have really made me feel welcome. My oldest son finished treatment with Dr. Christensen and my daughter is currently in treatment. Her breathing has improved so much. She no longer has sleepless nights due to breathing problems, and no longer takes antihistamines. I am excited to be a part of the team that has improved my children's health, and be able to help other patients achieve the same goal.

I was born in Chico, California and raised here in Lewiston Idaho, graduating from LHS in 1998. I have been working in the medical field since 1998 and attended LCSC for Collision Repair. I took a break and raised our three children for 9 years in Moscow, Idaho. When moving back to Lewiston, I decided to get back into the medical field, starting in Medical Records/Transcriptionist and moving up to Pediatrics. I love working with patients and getting to know them every day.

I am married to my wonderful husband, Frank. We met in Collision Repair at LCSC and married in 2003. We are the proud parents of three kids, two boys and one girl. We enjoy outdoor activities and watching our kids play sports. We spend lots of time together boating, camping, razoring/motorcycle riding, fishing and hunting. I enjoy exercising. GRIT/HIIT workouts are my favorite and running with my sister.
Amber Mena
Clinical Assistant
I started working with Dr. Christensen and his team in August 2020. I graduated from Clarkston High School and went on to complete my Dental Assistant Certification through LCSC. I wanted to work in a career where I am able to help people and that is what I found at Dr. Christensen's office. I love that Dr. Christensen's staff helps to improve patients confidence and their breathing which improves their overall health.

Outside of the office I love to spend my time outside with my family and close friends. I am married and have two fur babies. They are both female German Shepherds. The oldest is 2 years old and the youngest is just barely 8 months old. I love to take them to the beach, camping, boating, hiking, and side by side riding. I have been married 1 year this August to my husband, Fernando. My husband works at Joe Hall Ford in Lewiston. We haven't lived here our whole lives but consider the valley our home. I come from a big family and I am very involved in my younger siblings lives. I have 4 brothers and 3 sisters.

Nancy Harris
Records Coordinator
I joined Dr. Christensen's team in January 2018. As our records coordinator, I assist Dr. Christensen by obtaining patients' X-rays, scans, photographs, and airway tests used in determining treatment plans. The best part of my job is getting to know our patients on a personal level and seeing the positive effects their treatment has on their life. I look forward to coming into work each day to improve the health and well-being of our patients.
I grew up in Chihuahua, Mexico. My husband Martin and I were married in 2004 and have two children, Nate and Mia. In our free time, we enjoy camping, hiking, tubing on the river, and are active in our church.
Jessica Dickson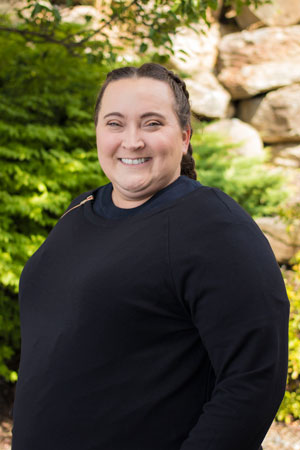 Lab Tech
I started working for Dr. Christensen in October 2017. Though I have only just begun my career in the dental field, I have worked in the medical field for 18 years. As our lab tech, I make all those fun shiny appliances for your mouth! My favorite part of my job is knowing that with all the appliances I'm making, I'm not only helping our patients with a beautiful smile but in many cases opening airways and saving lives. I love my job; the team has been so inviting and helpful. I am so happy and blessed to be working for such a great, kind-hearted doctor!
I have lived in the LCV all my life. I have a son Treyten who is my world. We love camping with our family and two little fur babies Bentley and Dolché. When we're not camping, we are hanging with our family and friends.
Dannette Stroschein
Sterilization Technician
I joined Christensen Orthodontics as a sterilization technician in June 2020. I am proud to be a member of this amazing team. Everyone works together to give our patients the best care and experience as possible during their course of treatment. My daughter, Emma, was a patient of Dr. Christensen's at a young age with a difficult situation. Her experience throughout her treatment was outstanding and very positive for her and our family. We were so grateful and happy with her end results. I feel blessed to work with such an amazing team and doctor.
I was born and raised in the Lewiston valley and graduated from LCSC in 1993 with a Bachelor's Degree in the medical field. I have remained in the medical field throughout my career and have the passion and love for helping others.
I have 3 beautiful children, 1 daughter and 2 boys. We enjoy sporting events and the outdoors. We love to go camping, hiking, boating and family time when we have the opportunity.